H Direct: Hospitality Management Solution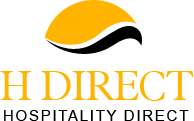 H Direct is a revolutionary hospitality management solution based on the "Direct model". It connects guest directly with the various service desks.
We are positioning H Direct to 3/5/7 Star Hotels, Resorts, Holiday Clubs, Luxurious Service Apartments & Embassies.
There are 2 types of solutions:
We will call it as H Direct Interactive
Guestroom tablets solution connects guests directly to the various Service desks in real time. It gives guests the ability to order in-room dining, make housekeeping requests, schedule wake-up calls – in fact, guests may request all hotel services with the touch of a finger.
Guests can plan and pre-plan their services in their own time and at their own pace without waiting on hold or in line.
Our revolutionary technology can connect hotels or Club houses or Resorts or embassies and their guests like never before resulting in greater revenue opportunities, streamlined efficiencies and a better overall guest experience.
The tablets can be mounted on special stands in guestrooms or loan them to guests on check- in. And all hotel services will be available touch away.
We call it as H Direct Concierge- a Virtual Personal Assistant for every guest.
Lobby solution helps guest on move to explore various hotel services & information.
Lobby Tablet solution is the perfect public-space solution for your guests. It uses strategically placed iPads in mounts to engage and serve your guests at the touch of their finger. It can be placed by the Front Desk or the Concierge Desk or near your meeting rooms.
Guests may avail various services with the touch of the screen to: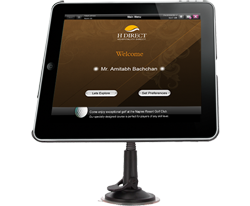 Learn about your hotel, its amenities, history and venues.
Learn about local attractions, restaurants, clubs, lounges and spas
Check local transportation schedules
Check airline flight schedules
This solution can become the preferred company solution for many limited service hotel brands. It's a guest-friendly convenience that helps guests enjoy more of the hotel and of enhancing their stays.